These are examples of some of my online digital learning. These are just snapshots, but for the actual courses I interviewed the subject matter experts, wrote the content, designed the courses, created the graphics using Adobe Illustrator and developed the end product using Articulate Storyline.
Example 1 – Self-paced online learning for an educational company
As part of my contract, I designed, storyboarded, wrote and developed many courses using Articulate Storyline, Adobe Illustrator, Animate and Audition. I specialize in creating blended learning packages so that all needs are catered for using the most appropriate techniques. This is a small example of a Storyline course, designed for children, but I was also part of a team that created face-to-face learning, workbooks, videos (both animated and live action) as well as elearning.
This particular course was designed with a theme of magicians, which included magic wands and rabbits in hats. Click here to see it in action.
Example 2 – In-app help system prototype for Web start-up company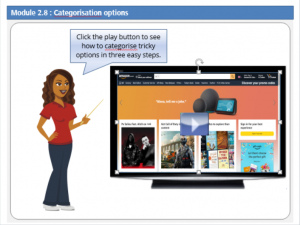 As part of my contract for a web start up, I was prototyping Instructional Design as an in-app help system. The aim is to introduce the features of the app such as search and category filters. I was responsible for investigating the content required, as well as writing, designing and developing each of the modules.
This is a screenshot of one of the modules using Amazon categorization as an example as the app is still under development and subject to a non-disclosure agreement.
Here are just a few of the firms I have worked with recently. For more information on examples of my work for them, please contact me here or email me at Lizzie@LizzieJay.com